Eyes wide shut and mouths wide open, bitches!
I'm so excited and proud to announce the first ever Submission LA party. Taking place this Friday, May 3rd from 9-11p, We will be orchestrating an array of twisted scenarios involving pets, sluts, servants, and sissies we have invited for Our entertainment. The juicy details can be found in the flyer below. If we have played before and you are interested in attending this, or a future, play party feel free to get in touch for details. Please understand that space is very limited and that the pleasure of admittance is a privilege to be earned…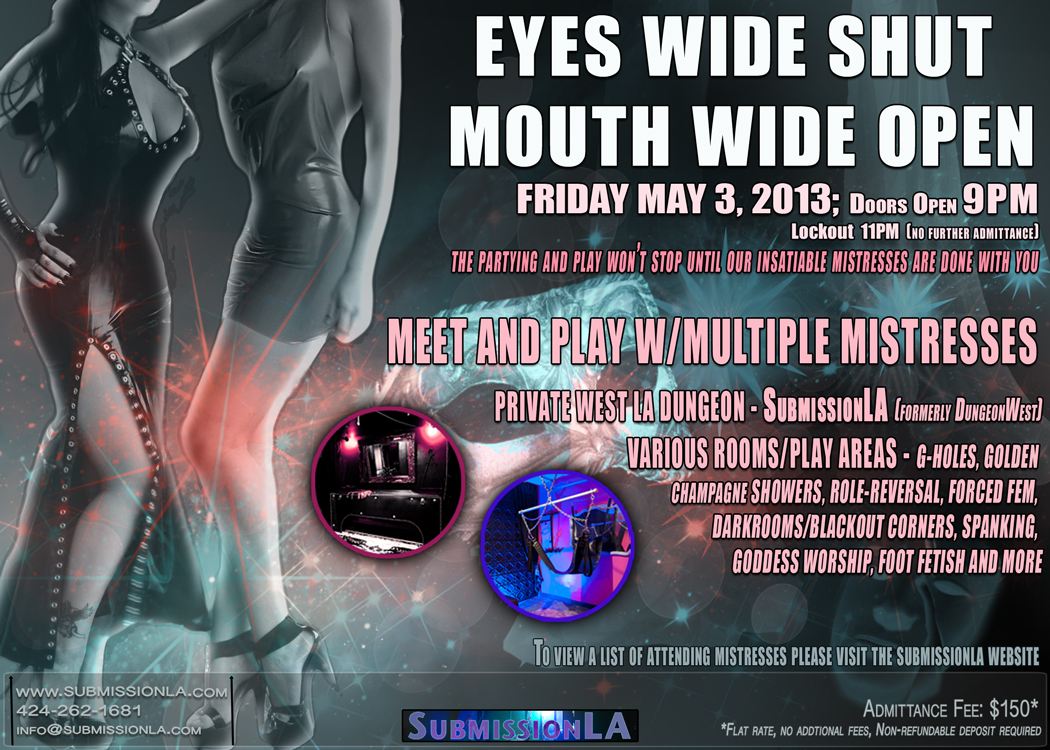 Then, next week will be DOMCON LA! So exciting. I will be attending various workshops and events at the Hilton throughout, as well as the Saturday night fetish ball. Conveniently, I will have a room at the Hilton (courtesy of My rainbow slave :) so this would be the perfect opportunity to explore some public humiliation, puppy training, body worship, and other domestic/role-play situations. Just last week, I took a little scent-loving bitch on a collar-and-leash run on the foggy Santa Monica beach. Something about humiliation and hotels just get My creative juices flowing. Can you find Me in last year's Mistress photo?
Finally, My trip to Berlin and beyond is CONFIRMED! I will be flying from LAX to BER on May 15th, and coming back June 19th. That's a European tour that is over a month long. What will you do with yourself while I am away?? I guess you SoCal subs' hearts will just have to grow fonder. For those who have been worshipping Me from afar (Germany, Netherlands, Poland, Czech Republic, Austria, Switzerland, Italy), this is your opportunity to experience My presence live and unfiltered. My schedule is still up in the air, so here's your chance to send Me a message to lobby for a city near you.
Let it be known now that I will for sure be in Berlin for the German Fetish Ball from May 17-20, and in Venice, Itlay sometime between the opening of the Venice Biennale on June 1st and My departure from Berlin on June 19th. If you have played in either city and can recommend specific dungeons or areas of the city in which to play, do let Me know. This is what you call slave-sourcing ;)
Wow, what a packed post! I still have much to tell you about making limited editions of My exclusive media (videos and photos) available on a first-come-first-served basis, but we will have to save that for next time. I guess you'll just have to make do with My beautiful, stinky foot video until then…