Ahoy, wenches!
I've got quite the month ahead of Me, so hang on tight, cause here we go…
Getting this started with a (finger)bang, I'll be making an appearance on Vivid Radio's Diaries of a Dominatrix hosted by friend and fetish film goddesses Aiden Starr! Aiden is a frequent attendent of SubmissionLA's EYES WIDE SHUT, MOUTH WIDE OPEN Multi-Mistress play parties, and has one of the filthiest minds around…and you know that means something coming from Me! If you don't know Aiden's name (maybe because you've been living under a rock?), you definitely know her work. As a talented performer and director, she's the powerhouse behind countless Kink.com and Evil Angel shoots, runs the deliciously deviant Wolf Hudson is Bad, and has about 400 projects She's juggling at any given time. Together, We make quite the pair!  We love playing together, and this week, we'll be taking calls and getting weird at the Vivid building in the valley–be sure not to miss your chance to eavesdrop on our perverted gab sesh on Thursday, May 8th @ 4-5pm PST on SiriusXM channel 102.
After kicking off the month with Aiden-fucking-Starr, My May is stuffed to the gills with gorgeous, dominant Women. Are we jealous? As some of you know, DomConLA will be taking place at the LAX Hilton this year from May 14-18th. In conjunction with this kink-centric event, Ms. Eden Winter and I will be hosting a Mistress Martini & Margaritas Mixer at SubmissionLA to help kick off the week. Unfortunately for you boys, this is an Industry-Only event. However, if you'd like to be there in spirit by sponsoring drinks, appetizers, or supplies for our FemDom cocktail hour, do feel free to get in touch. Or if you know of any Mistresses who are new to LA or  just visiting, feel free to pass along the following flyer with link! Who knows? If you play your cards right, We might even throw you a bone and leak some photos…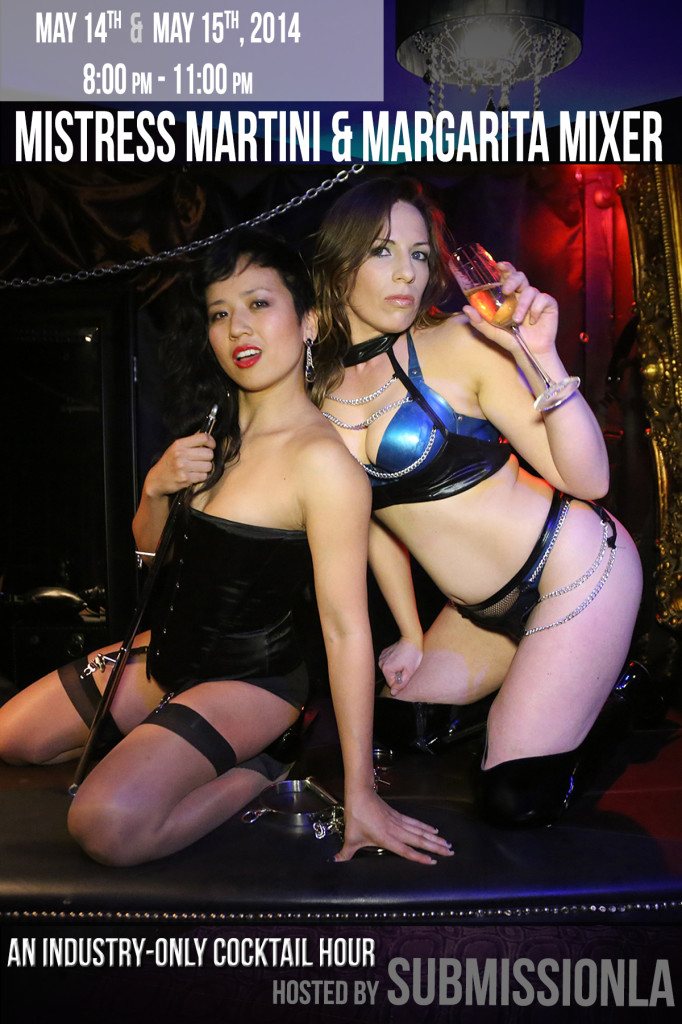 Last but certainly not least, I will be traveling and playing in ATLANTA, Georgia between Monday, June 2nd and Thursday, June 5th. While in town, I'll be taking sessions at Atlanta Dungeon conveniently located near Lindbergh station. Finally! A trip to the Dirty South…and you better believe that I'm going to make y'all live up to your reputation. My schedule will be tight while I'm in town, so priority will of course be given to those who apply for service in advance.  This is be My first-ever trip to Hot-Lanta so I hope all you southern sluts will grovel extra hard to make Me wanna come back for more!
To get in touch about applying for a session while I'm in town, do send Me an introductory email via My contact page. Make sure to include a bit about yourself, what you hope to experience with Me, who you have served in the past, and when you hope to schedule with Me. I'll also be taking double-Domme sessions with Mistress Ayn, so feel free to get in touch through Her if you have served Her in the past.