Hello, dear followers.
I'm newly back from Chicago and excited to share with you a long-awaited party that is just on the horizon. After months of brainstorming and organizing, I'm thrilled to say that The Decameron co-hosting Our first-ever ALL ASIAN Multi-Mistress FemDom Party with the infamous Chi Sisters in the freshly re-built Chi Temple in Downtown LA!
If you know Me, you know that I love playing with friends, so I am eagerly awaiting this day of full Asian Female Supremacy with six of My closest. In THE EASTEN EMPIRE, lowly males will be made familiar with their new station in life: under the boots of fierce, feminine Eastern Beauties. While we may seduce you with our bewitching gaze and smooth skin, make no mistake that you'll be watching your preconceptions of the submissive Asian Female crumble in front of your very eyes as We hijack your will and destroy your ego…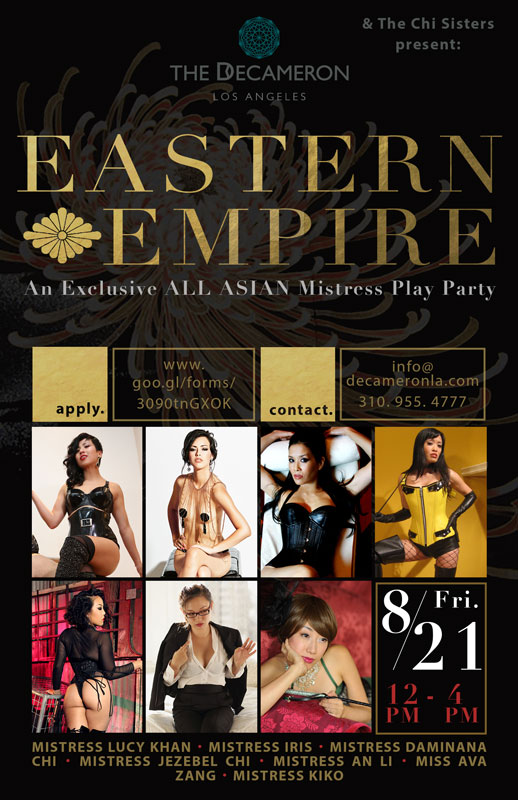 This is an exclusive invite-only play party featuring some of the finest Dominas in Southern California. If you think you are worthy of our time, you may see who is attending and apply for an invitation here.
For those who are lucky enough to have served Me in the past, you may contact Me directly to request an invitation. Space is very limited so don't delay as this rare opportunity to serve your Eastern Goddesses all under one roof will sell out.
Good luck and hope you make the cut!