Greetings dear subs,
I've recently returned from a rejeuvenating extended trip to the midwest and am once again reminded of how grateful I am to have built My life around the exploration and expansion of FemDom. On these latest travels, I continue to be impressed by the caliber of subs who approach Me–some after following My trail for quite a while!  I must have some killer karma to have the pleasure of training so many good boys and girls, if I do say so Myself. To give you a little peek into how I spent My time in Chicago on this last trip, feel free to read over the review penned by a new playmate–an alpha-looking gentleman with whom I indulged in the 2 course dinner + domination experience.
---
Alpha-looking writes:
There are thousands of small opportunities every day for an individual to grow or change.  After all every human being is, in simplest terms, the apotheoses of every experience and reaction to external stimuli throughout their life.  An individual's growth is limited only by their own desire to seek out new and different stimulus and experiences.  A few days ago a man walked into a dungeon, and a very different man emerged.  Until very recently, I would not have imagined myself as an individual that would enter into that world.  However, over the course of the last year or two I have found myself exposed to a handful of stimuli that overlap with that world and an increasing curiosity to experience that world more intimately.  After several months of casual observance, I found Mistress Lucy's website.  There was something different or unique that inexorable brought me back time after time to learn more.  I quickly learned that Mistress Lucy is extremely easy to talk to, she has a very disarming personality that sets you at ease while allowing her to develop a sense of what drives you and where your limits might be.  The more effectively you communicate, the more crafted your experience can be to maximize your growth potential.  What happened in that dungeon is mine, or perhaps more appropriately Mistress Lucy's (very graciously shared with me), however I will say that this experience was a feast for the senses, from subtle and erotic, to sharp and tormenting.  Mistress Lucy has an innate ability to lead you right up to the edge of your comfort zone then provide just the right encouragement so that you willingly step over that precipice into a new world with expanded viewpoints and limits, a deeper understanding of yourself, and an underlying drive to return to this place and see how deep the rabbit hole goes.  
Mistress Lucy, my time with you was everything i could have hoped for and so much more,  while the physical reminders of my time with you are fading, the memories are permanently etched into the confines of my mind.  Longing for the next opportunity to serve you.
---
Sounds like we had a lovely time together, doesn't it? ;) I bet it makes you want to Experience Me for yourself…which brings Me to My:
30 DAYS OF SUBMISSION Challenge
Since I know there are many of you yearn to be under My control but live outside the areas I frequent, I'm considering creating 30-DAYS OF SUBMISSION challenge. In this distance training program, you will perform one act of devotion per day (as dictated by Yours Truly, of course) over the span of a full month. Each day will correspond to a task that you'll have to complete, and each task will require you to stretch and sacrifice differently–a perfect introduction for newbies and those trying to get out of their own comfort zone. Through this program, the goal is to find out what your interests and proclivities are, and to develop a deeper understanding of your own kinks. If something like this would be of interest to you, please respectfully let Me know by petitioning Me via email so I can gauge the enthusiasm of My slave force.
---
And appropriately on that note, I'd like to respond to the many, many Bay Area sluts who have been chirping in My ear as of late. It seems that there are plenty of you based in northern California who long to serve, so I'm excited to announce that I'll be in your neck of the woods NEXT WEEKEND!
SAN FRANCISCO, CA
Friday 8/4 – Sunday 8/6 | 2017
Travelling with My very sexy bull, I'm looking forward to introducing interested parties to the deliciousness of tease + denial, cuckolding, forced-bi, and domestic slavery, which includes all sorts of foot and body worship, along with one of My favorites: toilet training :) While I encourage cucky subs to indulge in the ultimate humiliation of being put in your place in the presence of a real man while this opportunity is on the table, I am always happy to play one-on-one for scenes that are more intimate in nature. Please do get in touch ASAP if you'd like to speak for My precious time while I'm in town.
xoxo,
L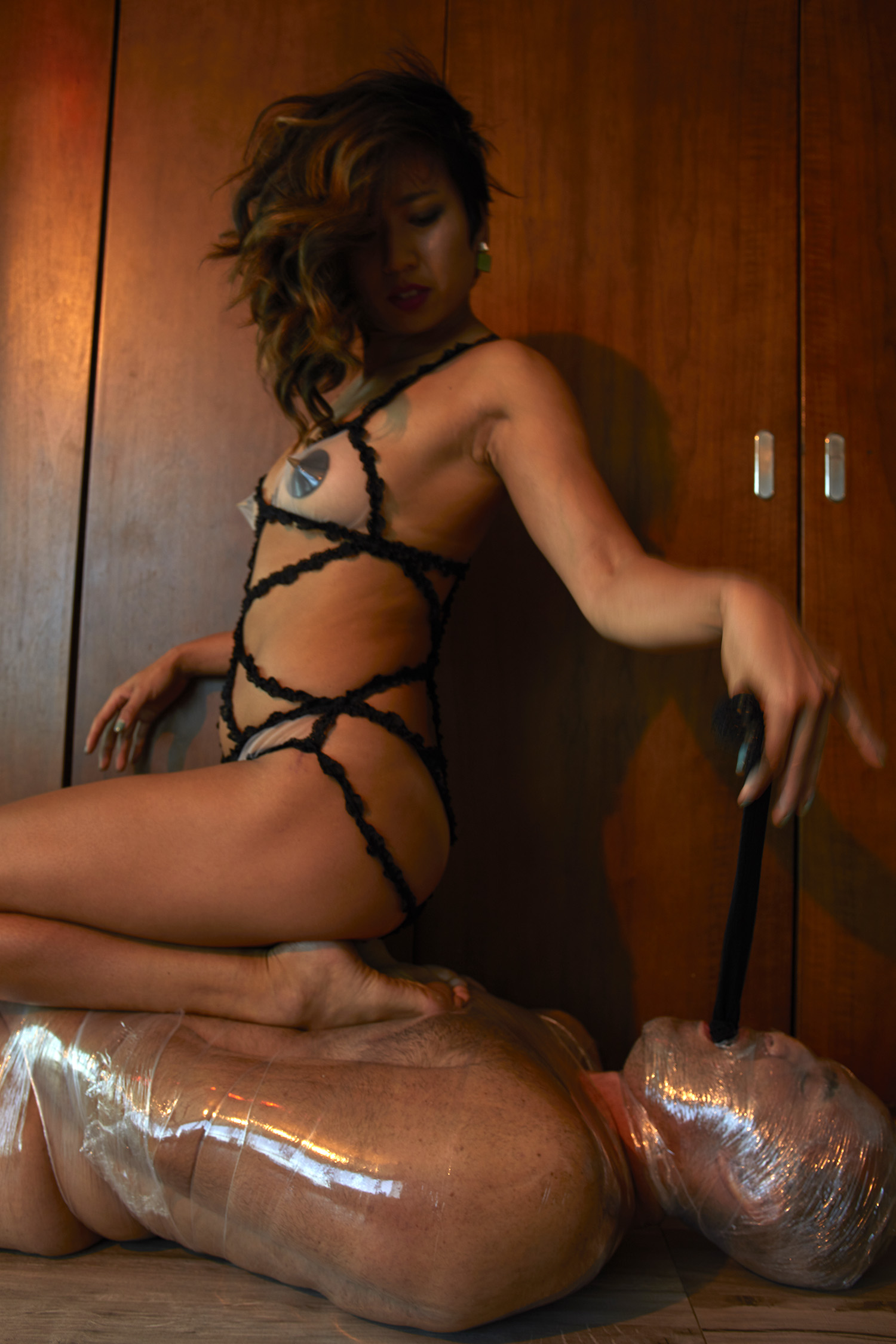 photo credit: Peter Goldman