Hi sluts :)
With the days getting as long as they are, I'm happy to announce My little summer half-birthday jaunt to San Francisco is just around the corner! Bay Area slaves may be glad to know that I'll be in town and taking sessions in the city between June 23-28th.  This will be my first trip to San Francisco and I will be playing out of  Morgana Maye's La Maison, a decadent and expansive playspace near the Castro district. For those of you who have been there before, you'll know that it's an extremely private playspace, since we will have the entire house all to ourselves during our time together.
---
Since I've gotten so many requests from you SF boys inquiring about the joys of full toilet training, I have a special 2-course Dinner & Domination that I would love to indulge in on this trip up North.  
Course #1: This is a social hour dinner in which you take Me out and wine and dine Me, filling My belly with the best of foods and the finest libations. If we've not played before, this shared meal makes for a perfect opportunity to get to know one another on a deeper level which prepares us well for our second course…
Course #2: We meet at our agreed upon playspace the morning after our delicious dinner together. This time, we are meeting for breakfast and I FEED YOU.  As I transfer this meal from belly to belly, we get to once again enjoy the delicious meal we shared last night. Talk about coming full circle :) 
---
Interested in throwing your hat in the ring? I suggest you get in contact with Me ASAP so we can exchange ideas and compare schedules. I hope you NorCal subs will not miss this opportunity to serve Me while I'm in town, since I will be taking limited sessions on this trip…
If the above description of My two-course fantasy for this trip isn't enough motivation, (check your pulse!) I'll be generous enough to leave you with a new photo and an open-letter-cum-review freshly penned by My loyal little whatever…Hope to see you up north!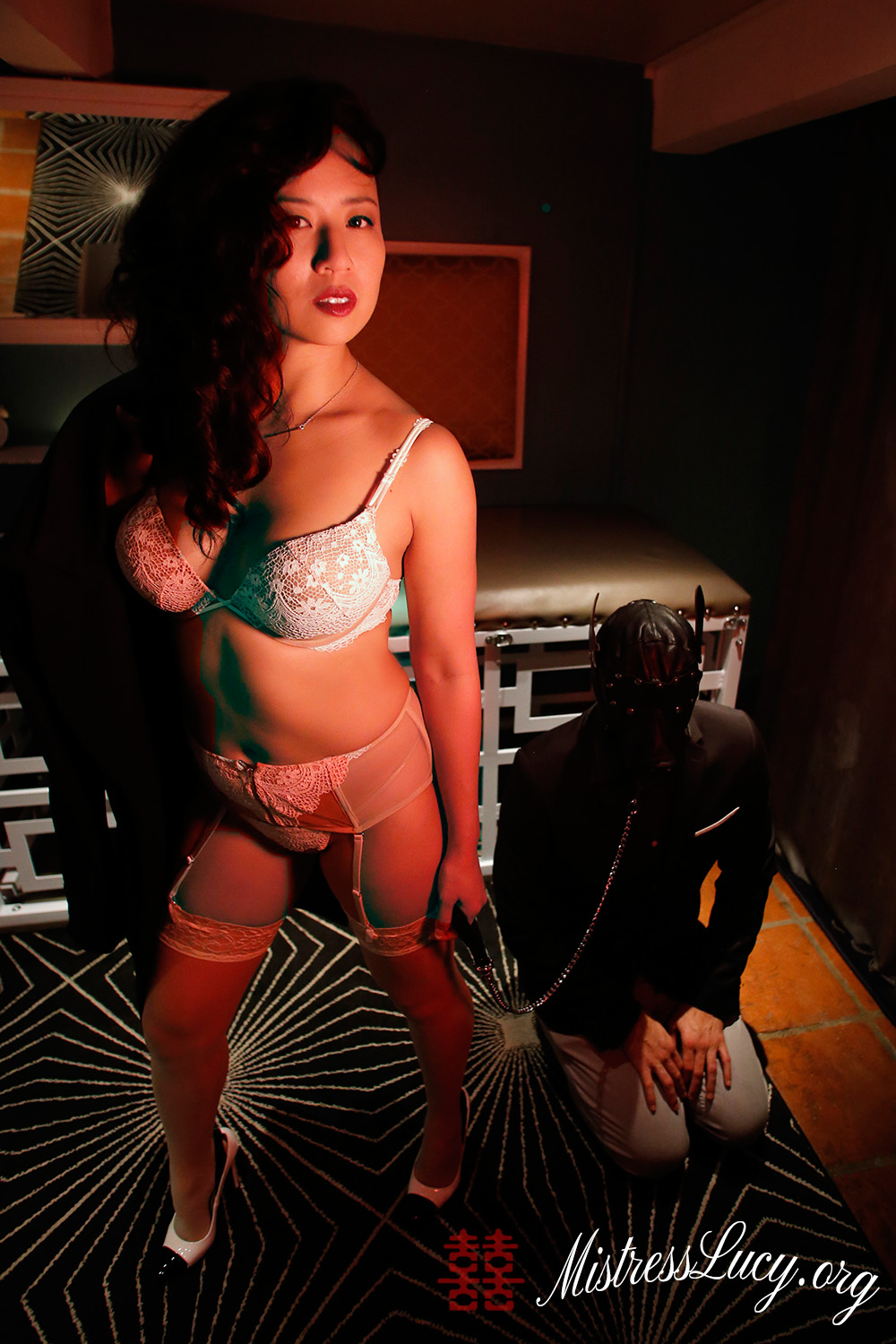 Whatever writes:
I have never felt compelled to write a review before, since I had always believed that what transpired in a session between a Domme and sub was private–part of a personal intimacy reflecting the tenor of a particular relationship. Moreover, since these relationships are fluid, with the best being mutually beneficial, there never seemed to be a compelling rationale to share the experience with a broader audience.
Yet, today I have decided to publicly thank Mistress Lucy Khan for the gift of her time and interest. I feel compelled to shine a spotlight on this psychologically-focused and emotionally-empathetic artist. Imposingly imaginative and intellectually creative, She has instigated a fundamental questioning of belief in my own perceptions about what is and is not possible. She has provided the rarest of gifts–insight–and I am profoundly appreciative.
For those of you graced with the opportunity to share time with this one-of-a-kind Domme, understand you should not bring a "drive thru" mentality.  I know we all have different interests and even though Mistress Lucy is skilled in virtually all aspects of BDSM, Her real differentiated skill is based on her uncanny ability to match your personality and proclivities with the perfect scenario to maximize the impact of time spent together. No matter how open to new experiences you believe you are, or how extreme your fantasies, She will leave you unmoored, questioning everything except your presence before her. It is absolutely primeval.
 She will understand your chemistry and make-up just as she has mine and when you acquiesce, you will see her eyes smile, reflecting the deep connection she has established…possibly followed by her sharing a "good boy"…and you will be happier than you could have ever imagined. Know with certainty your particular interests notwithstanding, Mistress Lucy will guide you in discovering others you did not realize you had–encouraging you to explore the hidden paths that please Her. In my case, She has inflicted escalating corporeal punishment with a psychological twist, instituted a fashion makeover, used me as an object of public humiliation, a human toilet, and a prop for role play scenes…none which were ever contemplated by me before training with her. She will crash you thru barriers and limitations and boundaries like they were tissue paper.
 Even after leaving the dungeon, I would find myself trembling throughout the day when recalling my efforts to entertain her. It is unnerving how she has initiated a re-definition of how I see myself. She sees clearly who I am and what I should become….and as I gradually reduce my reluctance to take this journey, She makes certain it all seems so right and simple. Her guidance and encouragement has result in a level of engagement I would have never imagined possible. It is total immersion…characterized by subjugation, acquiesce and finally a quiet, almost peaceful transcendental state.
Her physical beauty, intellect, sensuality and creativity will leave you breathless and spent, transfixed, gasping for air and yet–always wanting more. I cannot recall ever being part of a more emotionally and psychologically intense experience. If you're anything like me, there is simply no way you can possibly ignore the opportunity to serve her…